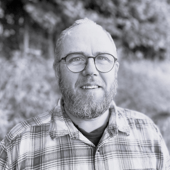 Marius moved away and came back to Redpill Linpro
There is a trend going on. Redpill Linpro has several returning employees, and Marius Berntsberg is one of them. The former Oslo-living senior consultant moved away from the city, but returned at the same time to the company he'd left a few years ago. From his well-equipped home office, he is now back in the unbeatable work environment at Redpil Linpro.
– It sounds like a cliché, but I have never come across any other workplace that has the same level of skills and drive as my team and colleagues at Redpill Linpro. This is a special place, says Marius Berntsberg.
Marius Berntsberg is an experienced system engineer; he started working at Redpill Linpro more than a decade ago – the first time.
– I have always been interested in open source and looked up to those I knew who worked at Redpill Linpro back then. My friend told me I should try to get an interview here. So I did. I got the job and got the chance to work with talented people and good leaders.
Before Marius started at Redpill Linpro for the first time, he had begun his career as a network technician in a public health company. Then, after nine years at Redpill Linpro, he was ready for yet another change of workplace and started working in the public sector again.
– I soon realized that switching workplaces weren't the change I wanted. It was a lot of frustrating legacy technology and people with limited access to the system. In a huge state-driven company, you can't do much about your work environment. I saw problems that I actually could have done something about, but I wasn't allowed to. That was hard, especially coming from a flexible workplace like Redpill Linpro.
It didn't take long before Marius came back to Redpill Linpro. But instead of working from the office in Oslo, he is now working from home. The years with covid restrictions made Marius and his family realize that they wanted to move out of the city and closer to their relatives. In Hamar, a 1,5-hour train ride from Oslo, his two-year-old daughter has great access to her grandparents, and nature is just around the corner.
Working remotely has been a smooth and easy change. Everyone is used to video meetings and communicating over chat protocols.
– I can actually concentrate better at home than in an office with many people. As long as my team leader is happy and the social part is working, I think the home office is great. And it is a really nice bonus that I get to see my daughter more now.
Marius' home office is just as well rigged as it would be at the office. As standard at Redpill Linpro, each person gets a budget and can buy their preferred equipment.
– We can choose whatever we want, within some limits – which is good. Not every nerd wants the same equipment. We are kind of picky, he says laughing.
One of the downsides of working remotely can be the social part. Creating relations and reading your co-workers through a screen can be more difficult. Marius explains it like "the water cooler talks are gone," but he tries to make up for them.
–I try to stay and hang around a bit after online meetings. Just to talk a bit. It isn't necessarily tech talks, but figuring out what is happening in my colleagues' lives and just chatting about everyday stuff.
Once a month, the Oslo office has a "Redpill Linpro Evening," which is a purely social event. Technical talks, dinner, and a few beers with the co-workers.
– It is a perfect opportunity to take an office day, hang around, talk to co-workers, discuss work-related issues, and catch up socially. But it's kind of hard for me to get any "real" work done at the office these days, haha.
What would you say to someone considering applying to Redpill Linpro?
– If you think IT is an interesting area you will enjoy working here. You will get all the opportunities: you are not limited to working with only one technology. You get to do everything, and that's a huge difference from many other places. The flexibility of the operations here is amazing.
We have an environment you can't find in other places with so many people with so much skill. And if you are a bit nerdy, you will find that this place fits you like a glove.