Andreas is programming – without using his hands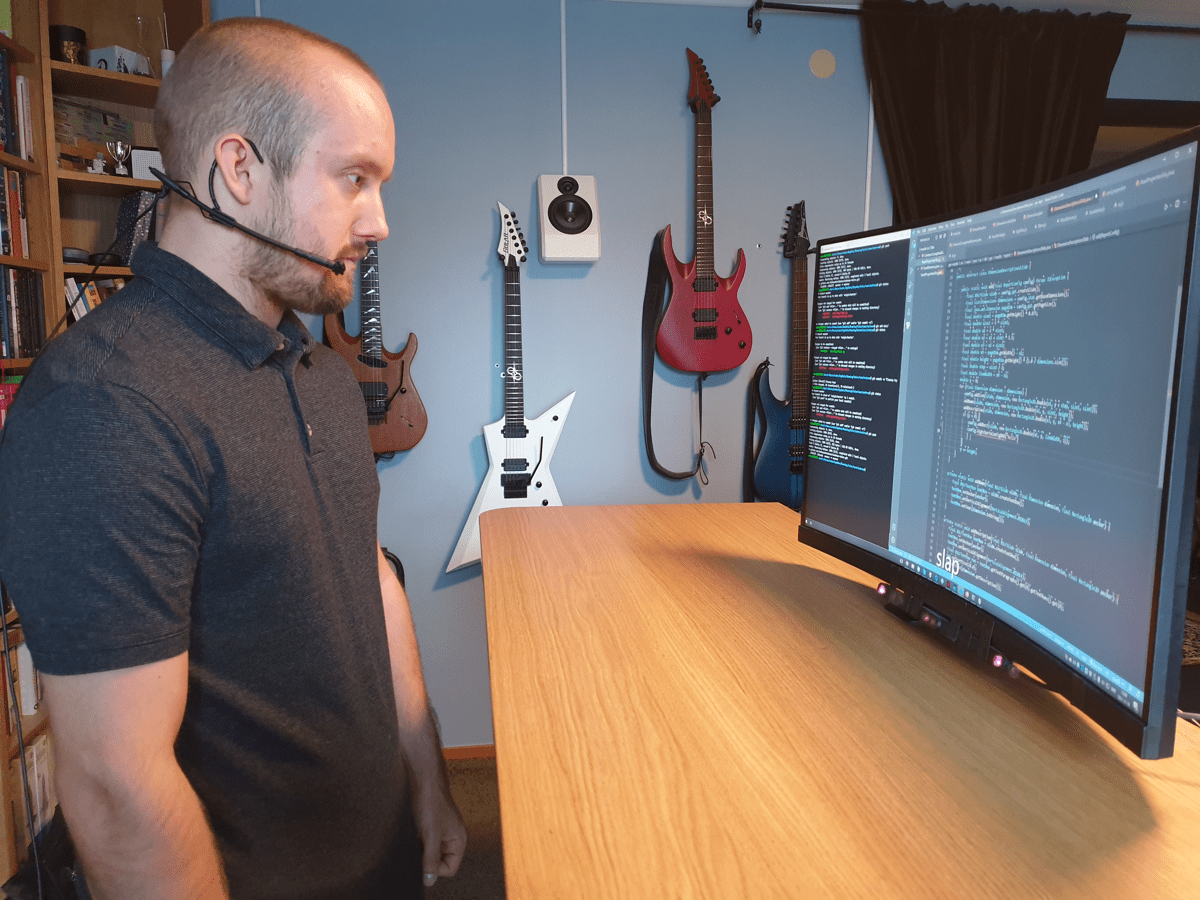 After many years as a dedicated developer, Andreas Arvidsson, got severe pain in his arm and hand. But that did not stop him from continuing coding; instead, it made him find new ways of doing his job. And now, just a few months later, he is writing his code faster than ever.
– In the beginning, I used simple commands. One for each click or shortcut that I usually did on the keyboard. But now, I use more advanced commands. I'm just telling the computer to execute different actions without controlling every little step. I was not this fast when I used a keyboard and a mouse - and I have only been doing this for a few months.
Andreas Arvidsson is a long-time coworker at Redpill Linpro Karlstad. Around the summer of 2021, he got a repetitive strain injury in his arm and needed to find a way to keep doing his work. He found Talon a program developed especially for programmers that allows you to control the computer with your voice.
– We are all aware that we need to vary the way we perform our work for health and safety reasons. There are ergonomic chairs and adjustable desks, but controlling the computer with your voice is a great way to take the load of your hands for a change.
Andreas Arvidsson started by using his spare time to find Talon and learn how to code without using his hands. When Redpill Linpro found out about his project, he has gotten a lot of support from the workplace.
– Yeah, they have been very supportive. I got an eye tracker to complement the voice control. These last months I've done a YouTube video to talk about programming without hands, and I've been a guest on our podcast IT talks. I have also been invited to one of our clients to speak about handsfree programming. It is clear that people in IT are curious about new technology - and there might be more people out there with similar work-related pains.
Talon voice is a product from USA, but Andreas has adapted it for his own needs. The commands and shortcuts are personalized and can be rewritten. One of the perks of that is that Andreas doesn't need to remember every difference in different coding languages. A function is just called a function, whether he writes in Python, C++, or Java.
As for today, Talon can only recognize English. It is both difficult and expensive to implement new languages. As a developer, sticking to English is not a problem, but it does prevent him from using voice control in Swedish. For emails and chats in Swedish Talon can do Swedish dictation via third-party services like Google web-speech.
Is it difficult to learn?
– Well, if you have used a keyboard and a mouse for the last 20 years, you have some adapting to do. But the thing is that you already know how to speak, so learning Talon is not at all like learning how to play a new instrument. You have to memorize some commands, which you can choose yourself. For me, it was actually very easy.
So, do you think programming without hands will have a significant breakthrough soon?
– I think it is going to be big. But it will take time. Talon is for developers, but products like Apple's Siri and Google home are also voice-controlled services. And when there is money to be made, there will be product development. This goes for the eye-trackers as well. It will probably get huge in gaming because it almost creates a VR feeling. The big companies will drive the development to make money, but then others can benefit from the progress. But the thing is, Talon is good enough already today. I haven't used a keyboard for four months.